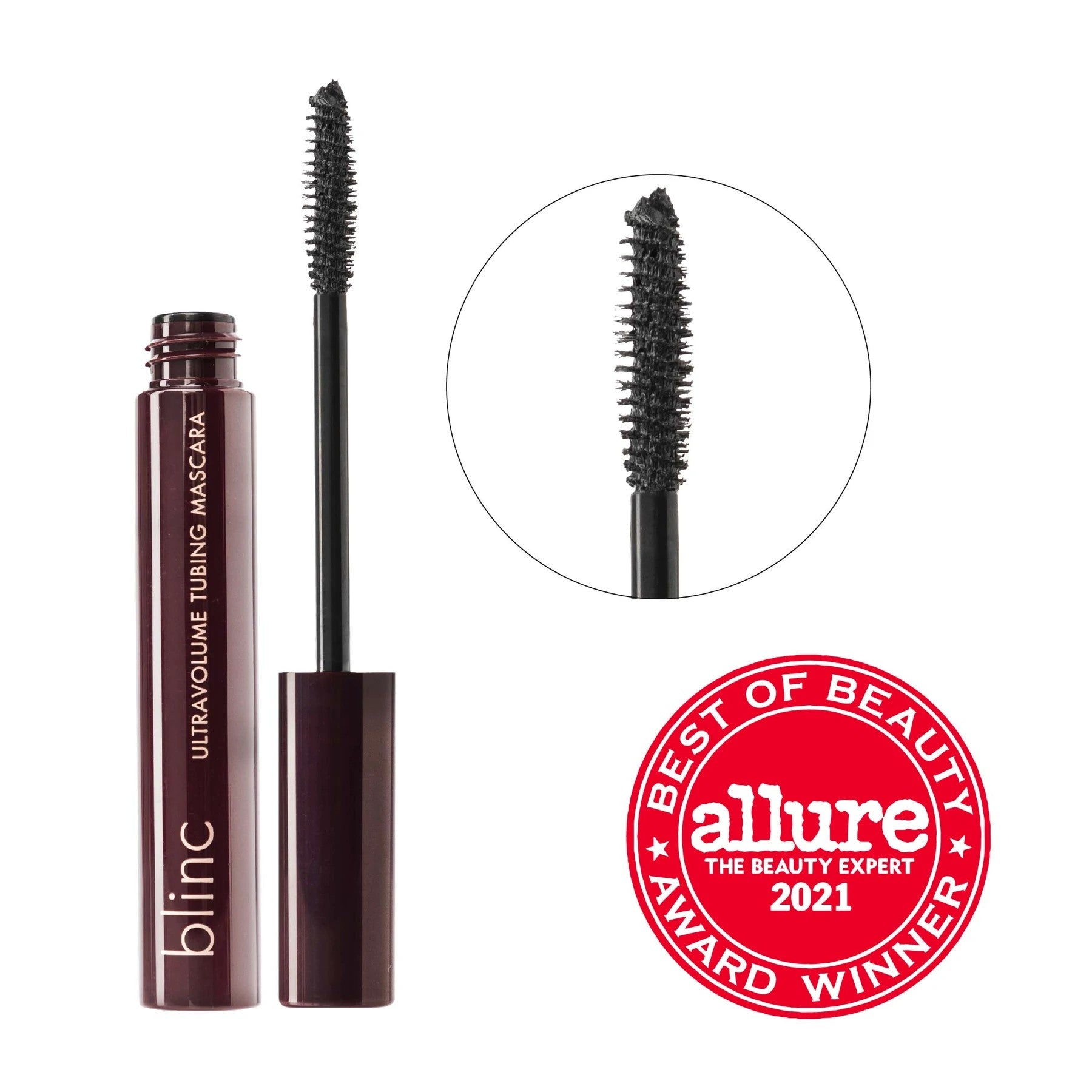 Ultra Volume Tubing Mascara
Ships Today If Ordered By 3pm EST (Mon-Sat)
THE WORLD'S FIRST VEGAN & CLEAN TUBING MASCARA
Blinc's UltraVolume Tubing Mascara gives you an ultra-longwearing, buildable, false lash effect with a semi-matte finish. This tubing mascara formula is both clean & vegan. 
UltraVolume's brush has dynamic spacing and super soft fibers. The bristles are made of thermoplastic elastomer—meaning they're gentler than plastic, yet still hold their combing power. It's the ultimate control brush that lengthens lashes and achieves dramatic volume.
Our original pioneering tubing technology forms tiny water-resistant "tubes" around each individual lash. Unlike conventional mascaras, you won't need to apply and wear the formula like a greasy paint. The tubing formula sets once it's applied, creating tubes that bind to your lashes. Once it dries, it's smudge proof. It can't run, clump, or flake—even if you sweat, cry, rub your eyes, or have oily skin. 
Clinically tested to be non-irritating, UltraVolume is ideal for sensitive eyes, contact lens wearers, and active people. It's the answer to anyone searching for a mascara whose look, hold, and ease of removal is without compromise.
The UltraVolume tubing formula has a better hold than waterproof mascaras, yet is easier to remove. You can set down the makeup remover—it won't do the job. Simply combining lots of warm water and gentle pressure will slide the tiny tubes effortlessly off your lashes. 
It's healthier for your eyes and lashes: there's no tint or residue left behind. No need to scrub the delicate skin around the eyes. No irritating makeup remover products needed.
Clean, Cruelty Free, Vegan, Fragrance Free, Gluten Free
Directions For Use: If you use a lash primer or lash curler, shape your lashes before applying the mascara. When the tubing mascara is applied, it will hold the curl you created. The tubes that form around your individual lashes will act like a cast.
Use blinc's UltraVolume Tubing Mascara on clean, dry lashes. Applying tubing formula to lashes with moisturizers, water, serums, etc. on them may affect the performance. 
Hold the wand horizontally. Start at the base of the lashes and go right to the tips while wiggling the wand slightly from side to side. Lightly sweep the brush across the lower lashes. You can also hold the wand vertically and gently apply the mascara lash-by-lash.
Keep applying until you have achieved your desired lash separation, volume, and length. An eyelash comb can also help build definition and separate lashes.
Build additional volume by applying as many coats as you wish. Go ahead—layer it up. Unlike conventional mascaras, the tubing formula won't weigh your lashes down. For additional length, focus on the tips of the lashes with a few strokes. 
Once you have finished, clean the bottle's neck and opening of any residual mascara. Finish by closing the bottle tightly. This prevents mascara build-up and drying, which can lead to difficulties in reopening, damage the bottle, or dry out the tubing formula.

REMOVAL: Remember: makeup removers, water, or pressure alone won't remove blinc UltraVolume tubing mascara.
Use a combination of lots of warm water AND gentle pressure. Thoroughly wet your lashes before applying light pressure. Fingertips, a washcloth, a shower stream, etc. will slide the tiny mascara tubes effortlessly off of your lashes and into your hand. 
Don't pull your lashes. The tubing formula should not resist coming off when it's properly wet. If the tiny mascara tubes are not sliding off easily, soak your lashes with more water. 
Don't worry—the tiny mascara "tubes" you will see in your hands, shower, or sink are NOT your lashes. It's just the mascara, which usually comes off in the shape of your individual lashes. Your real lashes are safe and intact.