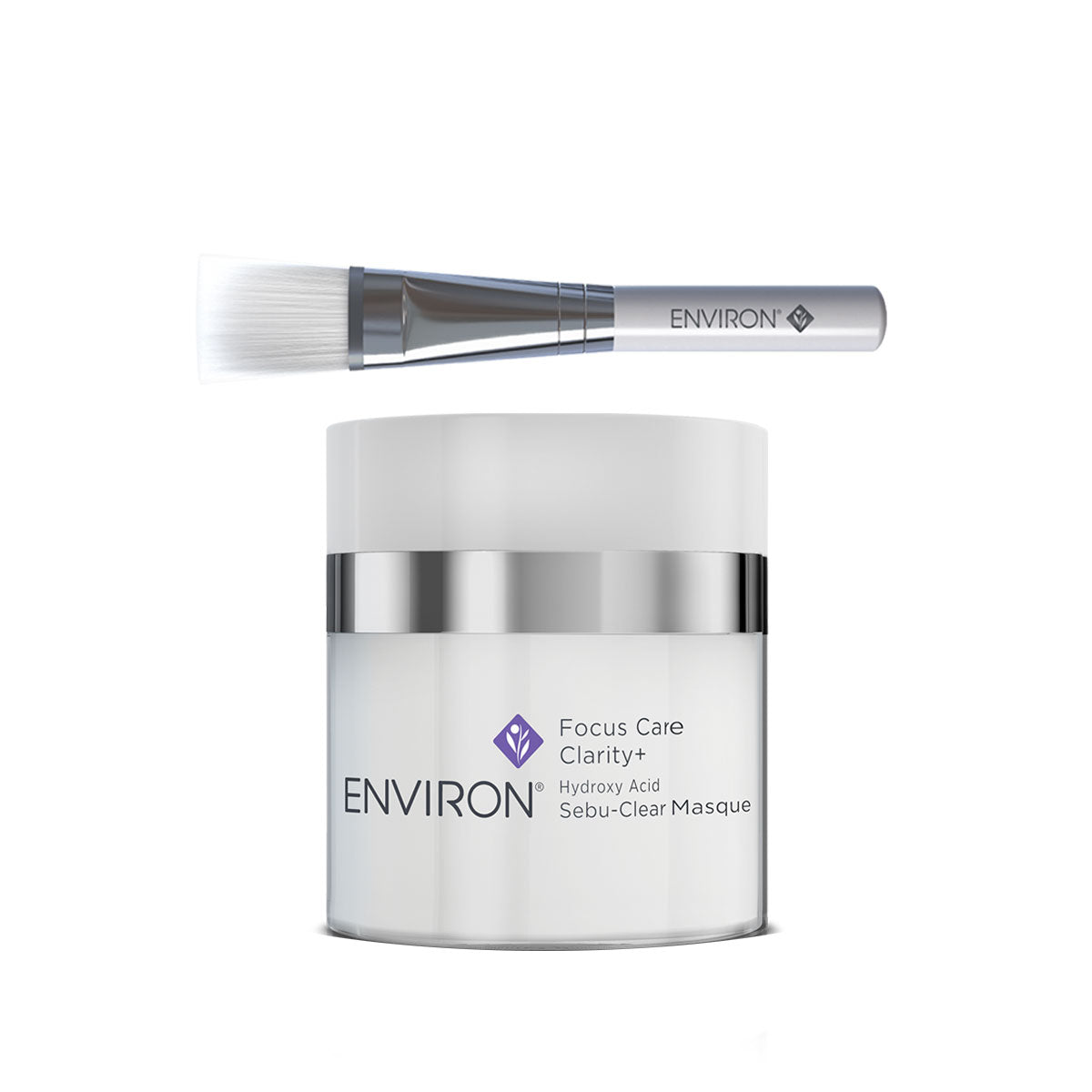 Hydroxy Acid Sebu-Clear Masque
Ships Today If Ordered By 3pm EST (Mon-Sat)
Environ Hydroxy Acid Sebu-Clear Masque is an acid cream mask that contains a combination of exfoliating acids to help clear the appearance of existing breakouts, leaving the skin looking visibly clearer.
Product Benefits:
 This low pH exfoliating cream masque assists with clearing the appearance of breakouts. A clay-based mask, it removes excess surface oils & rehydrates the feeling of the skin, ultra mild exfoliation helps alleviate the look of congestion and leaves skin looking visibly healthier and smoother.
WARNING: This product contains Salicylic Acid as a keratolytic agent. Avoid using this product if any known allergies to the ingredients exist. Avoid if allergic to Aspirin®. 
This product also contains an Alpha Hydroxy Acid (AHA) and a Beta Hydroxy Acid (BHA) that may increase your skin's sensitivity to the sun and particularly the possibility of sunburn. Use a sunscreen, and limit sun exposure while using this product and for a week afterwards. This product does not contain a sunscreen. We recommend sensible sun practice and protection at all times.
Avoid contact with the eyes. If contact occurs, rinse carefully with tepid water.
Aqua (Water), Propylene Glycol, Butylene Glycol, Steareth-2, Lactic Acid, Magnesium Aluminium Silicate, Cetearyl Alcohol, Stearic Acid, Cocamidopropyl Dimethylamine, Steareth-21, PEG-40 Hydrogenated Castor Oil, Salicylic Acid, Dimethicone, Polysorbate 20, Xanthan Gum, Melaleuca Alternifolia (Tea Tree) Leaf Oil, Sodium Hydroxide, Tocopherol, Disodium EDTA, Titanium Dioxide, Potassium Bitartrate, Limonene.
Cleanse and tone with Sebu-Wash Gel Cleanser and Sebu-Tone Clarifier. Apply an even layer of this mask to the affected areas using the brush provided. Remove after 10 minutes. May be used every second or third evening. Mild tingling may be experienced.

Next, rinse thoroughly with tepid water and moisturize with Sebu- Lac Lotion and Sebu-ACE Oil. Mix equal quantities of these products in the palm of your hand and gently massage into the skin.

Environ recommends: If excessive dryness or flaking of the skin occurs, discontinue use until the skin has settled before reintroducing the masque.
Great Mask!
This mask has tightened my skin so much. I love the glow I get every time I use it. The samples were also great 👍
When I use the mask once a week leaving it on for 20 minutes my skin looks fantastic. Best tightening mask I have ever used.
Blemish-prone skin
Purchased this Environ Focus+Care Clarity line for my 2 young adult children. So far, their skin appears clearer and less inflammed. This is actually one product that we could all see the changes on their skin. Strongly recommend!
Great shopping
Very good. Sent lots of samples. Will be back!