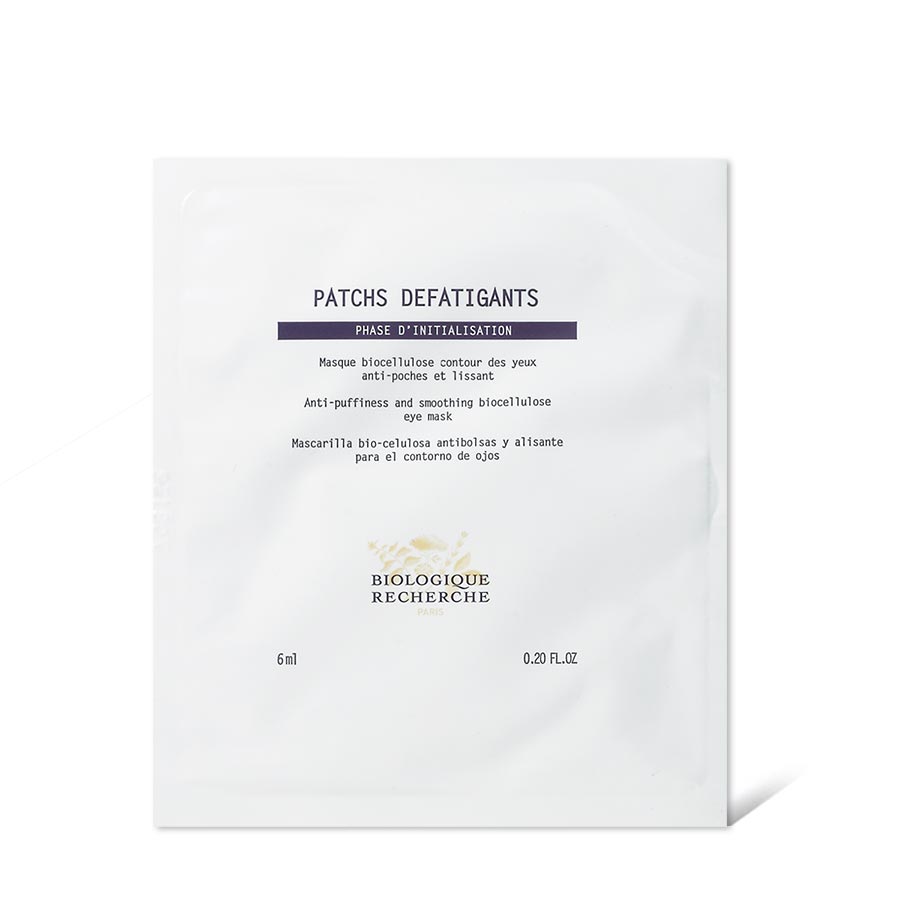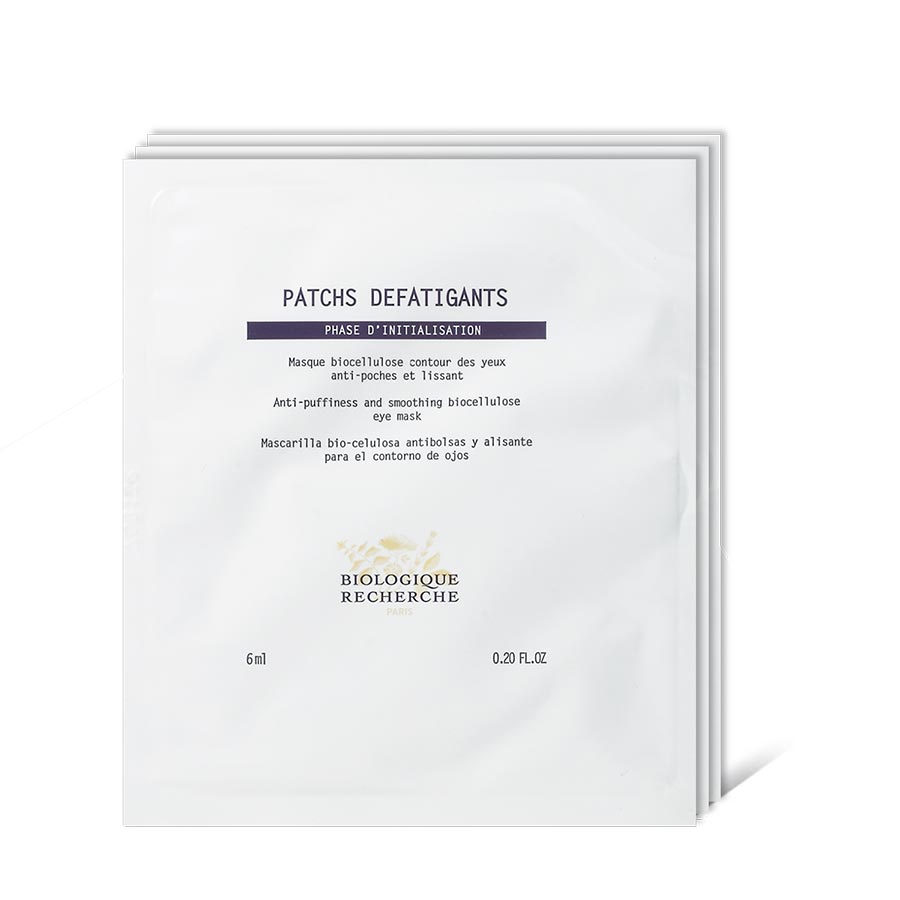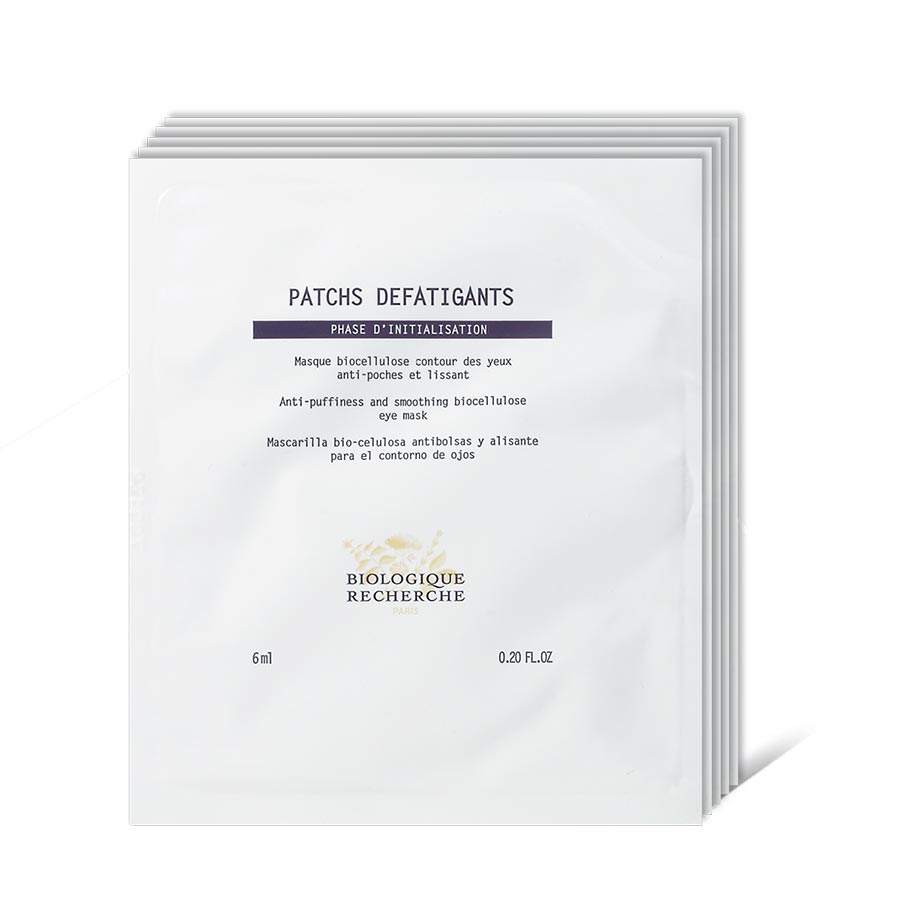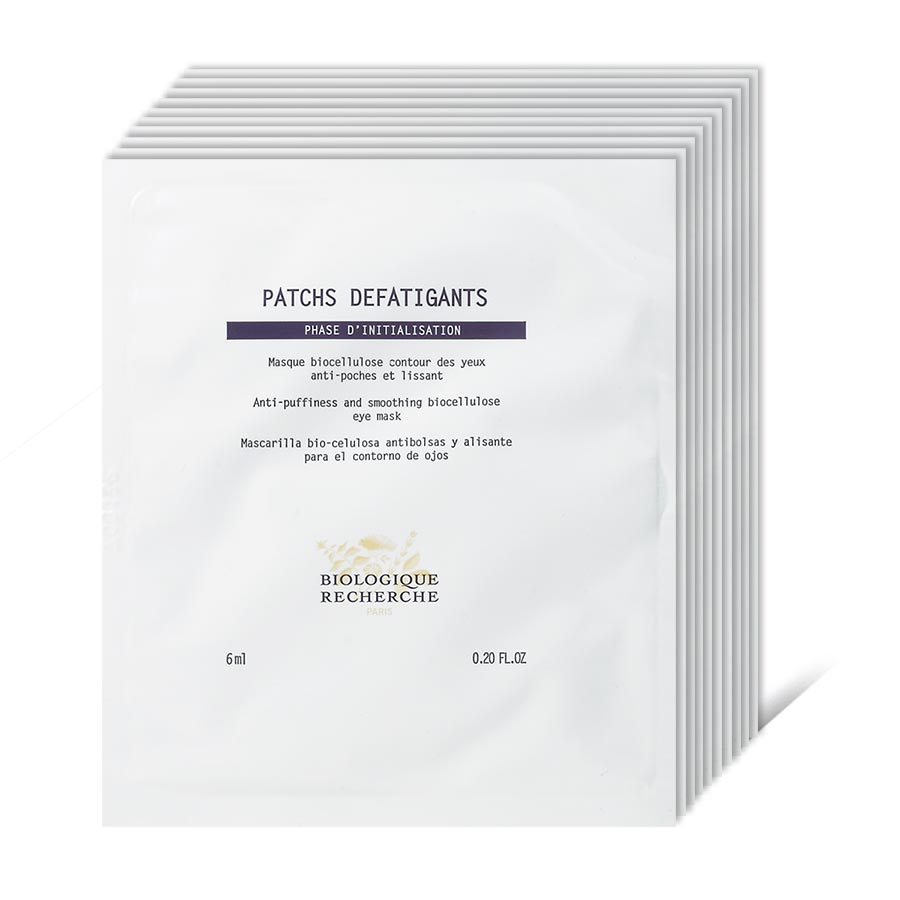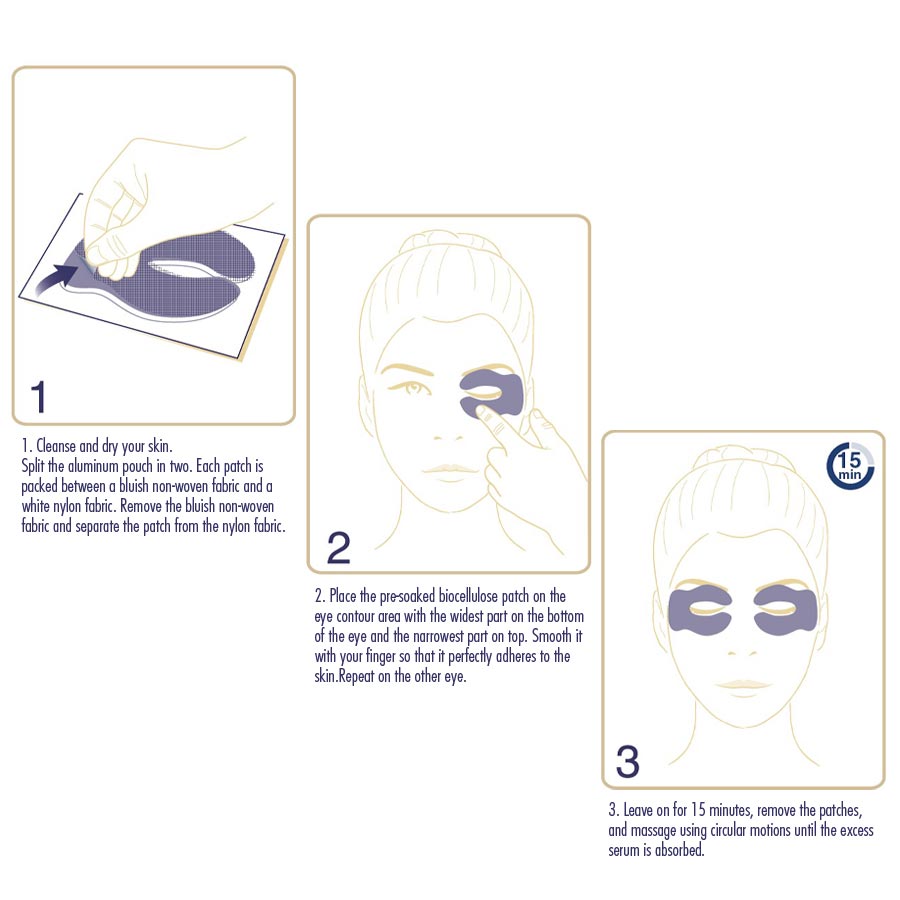 Patchs Defatigants
Ships Today If Ordered By 3pm EST (Mon-Sat)
Biologique Recherche Patchs Defatigants is an anti-puffiness and smoothing biocellulose eye mask. Biologique Recherche has developed this innovative new eye mask to treat the signs of fatigue and aging in the eye contour area. Patchs Défatigants combines an ideal biocellulose eye mask with a tailored shape infused with specifically chosen highly active ingredients suited to the thin and fragile eye contour area.
Our eyes speak volumes about our age and lifestyle. The eye contour area is an atypical part of the face. Its vulnerability and continuous movements make the eye contour area particularly prone to the formation of signs of fatigue (dark circles, puffiness, lack of radiance) and aging (wrinkles, dehydration lines, loss of firmness).
The Biologique Recherche Patch Defatigants is based on Biocellulose an innovative biomedical medium. Its technology was initially developed to treat serious burn victims in hospitals since it has unique skin healing and regeneration properties. Its unique 3D structure is made up of a very fine network of cellulose nanofibers. These biocellulose fibers are 200 times finer than natural cellulose. In fact, biocellulose has a diameter of around 20 nm, allowing it to create a film that perfectly adheres to the skin and certain wrinkles. Biocellulose thus acts as a second layer of skin: it is 10 times more effective than conventional masks!
Biocellulose has very high absorbency; in fact, it is capable of containing up to 100 times its weight in order to trap a high concentration of active ingredients thus improving the effectiveness of this new eye mask.
Immediately reduce signs of fatigue and aging in the eye contour area
Reduce puffiness above and below the eyes
Smooth and lift wrinkles and fine lines from dehydration
Improve firmness and tone in the eye contour area
Lighten dark circles for brighter eyes
Provide a sensation of freshness and lightness
Patchs Défatigants are pre-soaked in a formula enriched with anti-puffiness, anti-bag and anti-wrinkle active ingredients. Its natural biocellulose medium and "tweezer-like" shape perfectly adhere to the eye contour area for effective and comprehensive treatment. Immediately, puffiness is reduced, the skin is smoothed, and wrinkles and dehydration lines are less visible, for rested eyes. Recommended for tired Skin Instants© with under-eye puffiness.
Active Ingredients: Caffeine, anti-puffiness dipeptides, silk tree extract, cassava extract, hyaluronic acid and polysaccharides.
WATER (AQUA), GLYCERIN, PENTYLENE GLYCOL, ALBIZIA JULIBRISSIN BARK EXTRACT, HYDROLYZED MANIHOT ESCULENTA TUBER EXTRACT, BIOSACCHARIDE GUM-1, N-HYDROXYSUCCINIMIDE, DIPEPTIDE-2, PALMITOYL TETRAPEPTIDE-7, PALMITOYL TRIPEPTIDE-1, CAFFEINE, SODIUM HYALURONATE, HESPERIDIN METHYL CHALCONE, CHLORHEXIDINE DIGLUCONATE, CITRIC ACID, DARUTOSIDE, BIOTIN, CHRYSIN, SORBITAN STEARATE, POLYACRYLATE-13, TRIETHANOLAMINE, ACRYLATES/C10-30 ALKYL ACRYLATE CROSSPOLYMER, POLYISOBUTENE, STEARETH-20, DISODIUM EDTA, POLYSORBATE 20, PHENOXYETHANOL, ETHYLHEXYLGLYCERIN, SODIUM CITRATE, POTASSIUM SORBATE, SODIUM BENZOATE.
The Patchs Défatigants is a 3-week treatment. Apply once a week at any time of day, for an immediate relaxing and smoothing effect or to treat puffiness, dark circles and wrinkles. Apply to a clean face and leave on for 15-20 minutes. Use with the Serum Liposmose to enhance results. Apply the serum first and then the eye mask on top.